"TabTech" Automatic Multi Head Screw Capping Machine is versatile, self-supported on stainless steel leg with height adjustable adjustment system. The machine is precision built on sturdy welded steel frame completely enclose in stainless steel sheet and doors are providing to facilitate the servicing of machine.

The feed container moving on conveyor belt are feed into an in-feed star wheel, bringing the container below the sealing head in the subsequent indexing part, meanwhile the rotating head pick up a cap from the cap star wheel which is receiving from delivery chute of cap filling bowl, where the body and the neck of the container are positioned below the rotating head, where the sealing head is performing perfect operation of sealing, rotating head is design to seal container according to pre-set torque.
Technical Specifications – Automatic Multi Head Screw Capping Machine
Model
TT-AMHSCM-100
TT-AMHSCM-150
TT-AMHSCM-200
TT-AMHSCM-250
No. of Sealing Head
4 Head
6 Head
8 Head
10 Head
Output/hr.* bottles
3600 to 6000
3600 to 9000
4000 to 12000
7000 to 15000
Direction of drive
Left to Right
Electric Spec.- Main Motor
1.5 HP/415 V/50 Hz
2 HP/415 V/50 Hz
5 HP/415 V/50 Hz

Cap Feeding Bowl

300 Watt.
Height of Conveyor**
860 mm to 910 mm
Change parts required
Container: Star Wheel,  Back Guide, Feed Worm
Cap: Die, Delivery chute, Bowl & S.S. Star wheel.
Note : –
* Also available Complete Line Machines / Separate MonoBlock Machines.
* Output Depends on Container size, fill size, Neck diameter of container, and nature of liquid etc.
* Special Product can run With help of change parts.
* All Images are representation purpose only actual product may vary.
* Electric Voltage and frequency can be provided as per customer requirement.
* Due to continuous improvements in the machines, specification of the machines is subject to change without any prior notice.
* These all Machines should not be used to handle materials restricted under Narcotics Act. It should not be used to handle explosive & / or radioactive materials.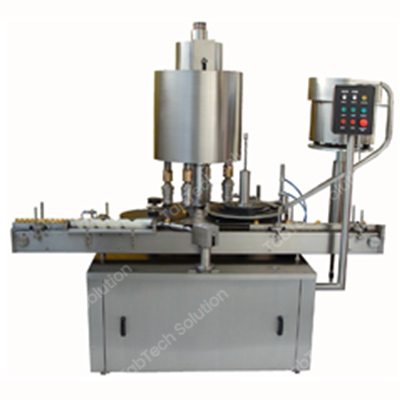 Salient Features
No container no cap arrangement.
Two motor synchronizes Conveyor, star wheel & platform turret.
Adjustable height of conveyor belt, to align with other machines of the line.
All contact parts are made out of stainless steel.
Pick & Place arrangement.
Specially designed heads for adequate & adjustable torque.
Low noise level, low power consumption.
S. cladding or hard chrome platting of all exposed parts to ensure long life and resistance against corrosion.
Universal coupling for quick and easy setting of In-feed worm.
Also Available Machines
Automatic Single Head ROPP Cap Sealing Machine
Automatic Multi Head ROPP Cap Sealing Machine
Semi Automatic ROPP Cap Sealing Machine
Automatic Single Head Screw Capping Machine
Semi Automatic Screw Capping Machine
Optional Features
No Cap No Container Arrangement.
Cap Lifting Elevator facility
Adjustable Height by Motor.
Acrylic Cabinet for the working area
Machine Stop arrangement during bottle jamming problem.
Higher Capacity Hopper
Change Parts
PLC HMI with Color Touch Screen
21 CFR with Part 11 Compliance Facility
Fully Computerized with SCADA Facility