Tab Tech is a leading manufacturer and supplier of advanced granulation manufacturing process technology. We have extensive experience in providing innovative solutions for granulation, drying, mixing, and milling processes for various industries, including pharmaceuticals, food, chemicals, and more.
Our granulation manufacturing process technology is designed to meet the highest standards of efficiency, productivity, and quality. We offer a wide range of granulation equipment, including high-shear granulators, fluid bed granulators, and roller compactors, which are all engineered to meet the specific requirements of different applications.
Tab Tech's granulation manufacturing process technology incorporates the latest features and functionalities, such as automation, control systems, and data analytics, to ensure precise and consistent results. Our technology also enables quick and easy changeovers, reducing downtime and increasing overall productivity.
In addition, Tab Tech's granulation manufacturing process technology is backed by a team of experienced professionals who provide comprehensive support and training services. We also offer customization services to meet the specific needs and requirements of our customers.
Granulation Manufacturing Process Technology
Granulation Process Technology, Granulation is the process of particle enlargement by accumulation technique, it's also a substantial method in the production of pharmaceutical solid dosage forms, mostly like tablets and capsules. Granulation process converts fine powders into free-flowing, dust-free granules that are easy to compress.
Our Product Range are as below….for the Dry & Wet Granulation Process.
Paste Preparation Vessels (Paste Kettle)
FBD – Fluid Bed Dryer / Processor
Roll Compactor
RMG – Rapid Mixer Granulator
Vibro Sifter, Sieving & Sizing
Blender & Mixer Machine (Mass Mixer / Octagonal Blender / Double Cone Blender / V Shape Blender)
Multi Mill
Co-Mill
Oscillating Granulator
Comminuting Mill
Tray Dryer
Mass Mixer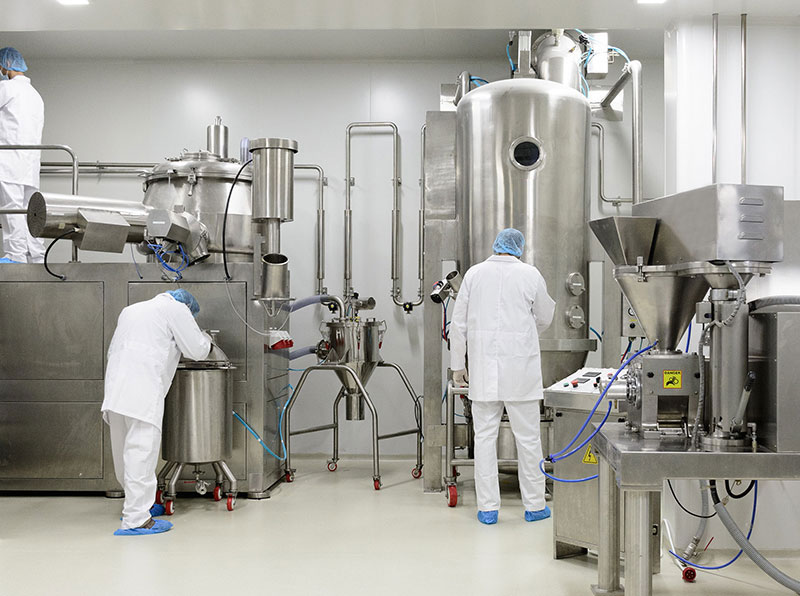 Salient Features :-
Minimize Dusting problems, hence reduce cross contamination which will help you during tablet compression.
To increase bulk density of powder in dry granulation method.
Reducing size of granules (with the help of Oscillating Granulator Machine or Multi Mill Machine or Comminuting Mill or Sizing Machine (Vibro Type Sifter Machine).
Auto Loading & Transfer system will help you the save to time & dust free & product contamination free operation.
Can complete three process in single line machine (Sifting / Drying / Compacting / Mixing / Granulating / Milling & Sizing).
Low operational cost (Three process in One Machine, Save of Manpower & Compacted Granules also save cost of Transportation as well packing cost.)
Single Person can handle the said operation.
Machine also helpful for the powder material / drug or the excipient is poorly flowing or sensitive to heat or moisture.
Dispenses of intermediate process such as wetting, mixing and drying as compare to wet granulation systems.
Note :
For product development or evaluation of product or changing the concept of granulation method, or achieving the dust free granules in order to get the Export quality granules. Our Technical Team can suggest the perfect procedure for the particular product base on an experience & expertise for it.