Single Sided Rotary Tablet Press Machine | Rotary Tablet Press Machine Manufacturers in India
GMP model Single-Sided Rotary Tablet Press Machine is an entry-level tablet press. This Rotary Tablet Press Machine is Manufacturers specifically for small batches of production.
TABTECH is manufacturing single sided (single hopper) rotary tableting machine, square GMP model is ideally suited for projects that require the higher output to cater to small batch production. Built-in compliance with the cGMP standards it is optimally designed for all kinds of pharmaceutical companies. Machine comes with Max. 10Ton operating pressure, Safety / enhanced performance / cleanability and ease of operation are its most significant features. The suitable model can be selected based on the tooling and output requirement from the 16 Stn. "D", 20 Stn. "D" & 12 station with "D", "D" & "SPECIAL" tooling respectively.
The 12 Station model is most useful to make the tablet for the veterinary medicine products, bolus tablets, slug tablets, animal feed tablets. Model is available with "SPECIAL" tooling and will be provided with tunnel type cam track having maximum tablet diameter of 40mm & maximum depth of fill of 30mm.
All Machines are useful for the
Pharma & Non-Pharma Industry (Charcoal, Carbon, Iron, Ferrous & Non-Ferrous Tablet)
Ayurvedic Tablet, Pills Tablet, Nutraceutical Tablet, Food Tablet, Agro-Chemical Tablet, Cosmetics Tablet, Homeopathic Tablet, Confectionary Tablet, Animal Feed Tablet, Veterinary Medicine Tablet, Bolus Tablet, Slug Tablet, Ceramic Tablet, Naphthalene Ball Tablet, POLO Tablet, Calcium Tablet, Chlorine Tablets, Salt Tables, Sugar Tablets, Pesticides Tablets & Camphor Tablets.
Salient Features of Single Sided Rotary Tableting
In Compliance with cGMP with Paint free Tablet Manufacturing Zone.
Contact Parts S.S.316 & Non-Contact Parts S.S.304.
Also Available Special Model of 12 Station with Special Tooling for Animal Feed Veterinary Medicine Tablets. Can make Max. Tablet upto 40mm Dia.
Machine is Having C.I. Body and C.I. Middle plate
Possible to Make tablet upto Max. 23mm Dia. (25mm Dia. On Demand)
Excellent and operator friendly material feeding System.
Higher Turret Speed Max. upto42 RPM.
Maximum Operating Pressure 10 Ton (12 Tonin 12 Stn.Model)
Maximum output upto 50400 tablets per hour
Turret made by Special Graded SG IRON Casting
Phosphorous bronze bush provided inside the turret hole.
Electronic Digital Tablet cum RPM Counter.
Inter lock Switches to all Guards with bypass selection.
Sturdy and easy fit Feed Frame (Gravity Feeder) of Gun Metal
Double Sided Tunnel Type lifting cams.
Lower Guard of polished Stainless Steel & Upper Guards of Transparent Acrylic Material.
Cam Tracks & Pressure Rolls made out of Alloy Steel.
Worm is made of phosphorous bronze material.
Aluminum Turret Guards to cover Teeth Ring of Turret.
Imported needle roller bearing provided at the bottom of turret.
One shot Lubrication System.
Anti-Vibration mounts.
Effective dust extraction nozzle.
Variable Speed Pulley.
Overload pressure release system.
Reverse direction motion protection is provided to avoid accident.
Single Rotary Tablet Press For GMP Model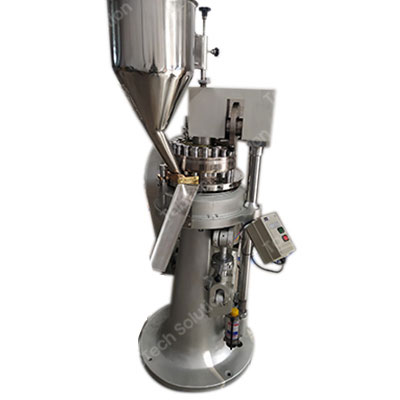 Single Rotary Tablet Press For Standard Model
| | | | |
| --- | --- | --- | --- |
| Model | TT-SP-12 | TT-D-16 | TT-D-20 |
| Tooling | Special | D | D |
| No. of Station | 12 | 16 | 20 |
| Max. Operating Pressure | 12 Tons | 10 Tons | 10 Tons |
| Max. Tablet Diameter | 40 mm | 23 mm(25 mm on demand) | 23 mm(25 mm on demand) |
| Max. Dept of fill | 30 mm | 20 mm | 20 mm |
| Output Tablets/Hour *-GMP | 10800 to 15840 | 15360 to 40320 | 19200 to 50400 |
| Output Tablets/Hour *-STD | 10800 to 15840 | 17280 to 28800 | 21600 to 36000 |
| Electric Motor | 5 Hp/1440 RPM | 2 Hp/960 RPM | 2 Hp/960 RPM |
Note : –
* Also available Lab Scale Model / Production Scale Model.
* Also available for Front Control Parameters.
* Output Depends upon the characteristic of material and shape, size, thickness & ambient condition.
* All Images are representation purpose only actual product may vary.
* Electric Voltage and frequency can be provided as per customer requirement.
* Due to continuous improvements in the machines, specification of the machines is subject to change without any prior notice.
* These all Machines should not be used to handle materials restricted under Narcotics Act. It should not be used to handle explosive & / or radioactive materials.
Optional Features
Dies & Punches (Tooling) (As per Customer's required tablet size)
SS 304 / SS 316 / SS 316 L Die Middle Plate in Turret.
Outside (Front) Controls (Can adjust tablet parameters i.e. Weight, Thickness & Pressure)
Pre-Compression Facility
Auto Lubrication System
ELNP (Electro-less Nickel Plating) on Turret
Arrangement for the Combo Tooling i.e. "8D"+"8B"& "10D"+"10B"
Upper punch penetration.
AC Variable Frequency Drive (ACVFD) for Main Motor
Electromagnetic Clutch with ACVFD system to protect rotating parts from the starting toque means, less wear & tare.
Force Feeding Attachment with AC Drive.
Flameproof Motor & Push Button Station.
Lower Punch Lubrication Spray System for Sticky, Effervescent & Hygroscopic Powder.
30mm Depth of Fill arrangement for the Naphthalene Ball Tablet
Core Rod provision in Turret for POLO Tablet.
PLC with MMI &Colour Touch Screen.
Machines with 21 CFR Part 11 Compliance
Machines with Fully Automation with SCADA facility.
Powder Level Sensor
Auto Powder Loading System (VTS & PTS)
Also Available Machine
Formulation Powder / Processing Machinery for tablet.
Dust Extractor / Powder Collector Machine
Vibro& Elevating Type De-Burring & De-Dusting Machine
Tablet Metal Detector Machine
Tablet Inspection Machine
Tablet Coating Machine
Tablet Dies & Punches (Round, DS/Capsule & Special Shape)
Tablet Blister Packing Machine (PVC & ALU ALU)
Tablet Strip Packing Machine