Tabpack Inj – Blister Pack Machine (For Injection, Ampules, Vials, Droppers, Syringes & Cannulas)
Model
TABPACK-150 INJ
TABPACK-300 INJ
No. of Track
SINGLE
DOUBLE
PVC Base Film
Max. Width
124 mm
212 mm
Thickness
0.35 to 0.45 mm
0.35 to 0.45 mm
Max. Reel Dia.
440 mm
440 mm
Aluminum Foil
Max. Width
116 mm
404 mm
Thickness
0.02 to 0.03 mm
0.02 to 0.03 mm
Max. Reel Dia.
210 mm
210 mm
Forming Area
Min.
102 x 140 mm
109 x 140 mm
Maximum Pack Length
112mm
200mm
Maximum Pack Width
150mm
150mm
Forming Depth
27mm
27mm
Maximum Out Put*
40-50 Stroke/min.
40-50 Stroke/min.
Machine Dia.
2665 x 675 x 2080
3015 x 675 x 2080
Electric Power
4 kw. (415V, 3 Ph., A.C.)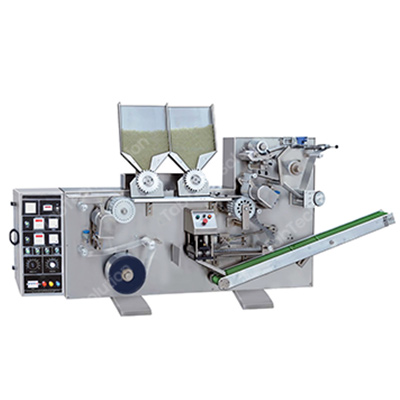 Note : –
* Also available Lab Scale Model / Production Scale Model.
* Output Depends upon the characteristic of material and shape, size, thickness & ambient condition.
* All Images are representation purpose only actual product may vary.
* Electric Voltage and frequency can be provided as per customer requirement.
* Due to continuous improvements in the machines, specification of the machines is subject to change without any prior notice.
* These all Machines should not be used to handle materials restricted under Narcotics Act. It should not be used to handle explosive & / or radioactive materials.
Salient Features For Blister Pack INJ
Fully automatic, system with continuous operation cycle mechanism for efficient packing
Automatic synchronized star wheel system sets harmony with blister formation and ensures smooth feeding.
A comparatively lengthy 'guide track' for rigid inspection for missing blisters, if any.
Crease proof sealing pattern to eliminate capillary formation of foil on sealing.
Contact heating system with pneumatic actuation allows blister forming with even heating and save wastage of PVC after every stoppage.
Universal Type Batch – Code Printing Unit.
Specially designed ergonomic and aesthetic partially electronic control panel board protects electrical operational components.
Suitable designed framework and usage of high bought out components from trusted names make the operational system easy, clean & perfect
1) BASE FILM
Opaque, transparent or coloured thermo formable and non-toxic PVC.
2) LIDDING MATERIAL
Aluminum Foil with heat -sealed lacquer or Glassine paper foil.
3) Optional Facilities (Available on prior intimation)
In – line scoring unit for dispersing of blisters into twos.
Thermoforming of manufacturer's/product's name
Printing Registration of Control system (PRC)
Combination packing facility.
PLC based Operational System
4) Utility Requirements
5 HP Air Compressor of 200 Liters Air Tank with a minimum Pressure of 120 Lbs/8 Kg (at par with Ingersoll – Rand IR –242 Air Compressor).
Water Chiller of 80 Liters Per Hour Capacity with a Temperature drop of 17. C.
Suitable Equipment to maintain the Ambient Temperature of Working Environment Between 18.C to 22.C.