"TabTech" Rotary Piston Filling & Sealing Machine (Monoblock) is versatile, self-supported on stainless steel leg with height adjustable adjustment system. Rotary Piston Filling & Sealing Machine (Monoblock) is precision built on sturdy welded steel frame completely enclose in stainless steel sheet and doors are providing to facilitate the servicing of machine, work on volumetric principle with rotary motion.
The unit is made compact and enclosed in stainless steel elegantly matt finish body. Machine with the special features….
No bottle/container No filling
No cap No bottle/container
Empty Bottles/Containers moving on SS Slat conveyor, feed below the filling nozzles through feed worm & in-let star wheel, Filling station consist of volumetric filling head and a central rotating liquid reservoir tank. This reservoir tank fed continuously with the liquid by external source. In-feed liquid controlled automatically by sensing the liquid level in the reservoir tank with the help of float switch to actuate pneumatically operated solenoid valve. Fill volume adjustment can be done by a screw, which changes the volume of all the syringes simultaneously. Fine adjustment of individual syringe is possible with the help of mechanism provided on top of the individual syringe.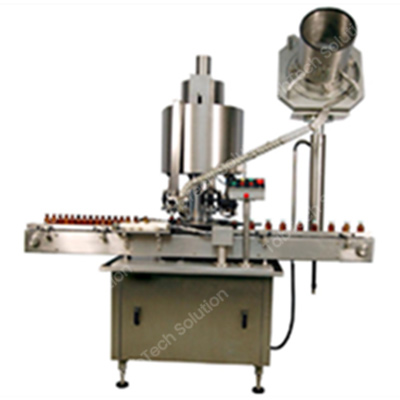 The main drive of the machine, conveyor drive & cap-feeding bowl consist of A/c Motor with synchronized variable A/c Frequency Drive.
After filling star wheel bringing the container below the sealing head in the subsequent indexing part, mean-while the bottle pick-up a cap from the delivery chute of cap filling bowl, where the body and the neck of the container are positioned below the rotating head, where the sealing head is performing perfect operation of threading & sealing.
Technical Specifications for Rotary Piston Filling & Sealing Machine
Model
TT-RPFS-6/6
TT-RPFS-8/8
TT-RPFS-12/8
TT-RPFS-16/8
No. of Filling Heads/Syringe
6
8
12
16
No. of Sealing Heads
6
8
8
8
Output/Hour*
2500 to 7500
4000 to 10000
6500 to 12000
7000 to 14500
Direction of Movement**
Left to Right
Fill Size**
30 ml. to 200 ml
Electrical Specifications**
Main Machine
3 HP / 415 Volts / 50 Hz.
5 HP / 415 Volts / 50 Hz.
Oriental Bowl
0.25 HP / 415 Volts / 50 Hz.
0.5 HP / 415 Volts / 50 Hz.
Conveyor
0.5 HP / 415 Volts / 50 Hz.
0.75 HP / 415 Volts / 50 Hz.
Height of Conveyor**
910 mm to 960 Adjustable
Note : –
* Also available Complete Line Machines / Separate MonoBlock Machines.
* Output Depends on Container size, fill size, Neck diameter of container, and nature of liquid etc.
* Special Product can run With help of change parts.
* All Images are representation purpose only actual product may vary.
* Electric Voltage and frequency can be provided as per customer requirement.
* Due to continuous improvements in the machines, specification of the machines is subject to change without any prior notice.
* These all Machines should not be used to handle materials restricted under Narcotics Act. It should not be used to handle explosive & / or radioactive materials.
Salient Features
"GMP" Model based on advanced technology.
Single operator for two operations (Filling & Sealing).
No contamination as immediate sealing of filled bottles.
Accurate ±1% due to piston dozing principle.
Manually Centralized volume adjustment system.
No bottle No Fill for individual head, hence no spillages.
Placing of cap feeder outside Monoblock-avoid entering of dust in it.
Additional sensors for minimum and maximum level of cap in chute which automatically start and stop rotary cap feeder to avoid damage of caps during rotation and wastage of energy.
Electronic liquid level controller and pneumatically control valve.
Optional Features
Acrylic Cabinet for the working area.
Chain Washing System
Nytrogen Flushing System
Cap lifting elevator facility.
Motorised volume adjustment
No Cap No Container Arrangement.
Machine Stop arrangement during bottle jamming problem.
Change Parts
PLC HMI with Color Touch Screen
21 CFR with Part 11 Compliance Facility
Fully Computerized with SCADA Facility