Online Roll Compactor Machine is used for Dry Powder Granulation Process. 
Online Roll Compactor Machine is an advanced technology designed to provide an efficient solution for dry granulation process. It is a continuous process system that utilizes a series of rollers to compress and compact the dry powder or granules into uniform sized flakes or sheets, without the need for any solvent or liquid. This process is widely used in the pharmaceutical, chemical, and food industries for producing high-quality granules with enhanced flowability and density.
Tab Tech is a leading manufacturer, supplier and exporter of Online Roll Compactor Machines that are engineered with advanced features for optimal performance. Our Online Roll Compactor Machines are designed with a pre-compression system that ensures consistent compaction of the material, leading to improved granule quality. The machines are equipped with a multi-step feed system that ensures even distribution of the material, resulting in uniform granule size and shape.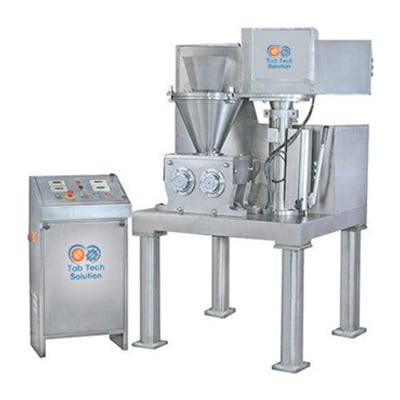 Online Roll Compactor Machine Manufacturers & Suppliers in Ahmedabad
Our Online Roll Compactor Machines are equipped with a high-speed roll that generates high compression force for maximum efficiency. They are also designed with an advanced control system that allows for easy operation and monitoring of the machine. The machines are constructed with high-quality materials that ensure durability and longevity, making them a reliable choice for continuous dry granulation process.
APPLICATION
PHARMACEUTICAL PRODUCTS
Lactose, Antibiotics, Riboflavin, Natrium bicarbonate, Ibuprofen, Paracetamol etc..
FOOD PRODUCTS
Animal food, Spice extracts, Instant blends, Vitamins Aromas ,Flavourings etc..
CHEMICALS
Plastics, Toner Substance, Silicid Acid, Colouring, Detergent Powder, Battery Substances etc..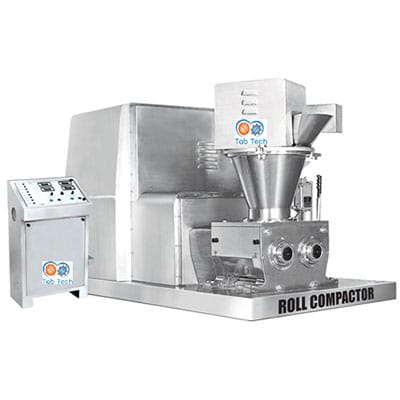 Online Roll Compactor Machine will help you for the….
Compaction of fine powder/ crystalline powder material.
Minimize Dusting problems, hence reduce cross contamination which will help you during tablet compression.
Water Jacketting System will helpful for the Hygroscopic & sticky material also helpful against heating of rollers & process chamber (Product will safe against problem of De-gradation).
To increase bulk density of powder.
Reducing size of granules (with the help of Oscillating Granulator Machine or Multi Mill Machine or Comminuting Mill or Sizing Machine (Vibro Type Sifter Machine).
The separated fines also can be Re-compacted/ Recycle with Roll Compactor Machine via Vaccum Transfer System (VTS) / Pneumatic Transfer System (PTS).
Can complete three process in single machine (Compacting / Granulating / Milling & Sizing).
Low operational cost (Three process in One Machine, Save of Manpower &Compacted Granules also save cost of Transportation as well packing cost.)
Single Person can handle the said operation.
Machine also helpful for the powder material / drug or the excipient is poorly flowing or sensitive to heat or moisture.
Dispenses of intermediate process such as wetting, mixing and drying as compare to wet granulation systems.
Note :
Selection of the Sieves & surface of compacting Rollers can be selected depending upon the characteristics of the powder/product. If the products are well familiar with the machine,
Our Technical Team can suggest the perfect roller surface for the particular product base on an experience & expertise for it. For product development or evaluation of product or changing the concept of granulation method, or achieving the dust free granules in order to get the Export quality granules, we are always happy to carry out the trails with your material in our plant