Cabinet of the dryer will be of 6/12/24/48/96 Trays capacity, made from MS angle frame of double wall chamber construction lined internally mirror polish by SS 304 18 SWG and externally 18 SWG Heavy Gauge MS with powder coated sheet. The cavity formed in between double wall will be properly insulated with 50 mm thick Glass wool to prevent heat losses from dryer.
Heavy duty airtight hinged doors made from 16 SWG MS sheet backed by 50 mm Glass wool on the inner side and ball catch locking arrangement together with 40 mm asbestoses gasket rope ensure very sturdy construction of the dryer.
The Air inside the Tray Dryer is heated by "U" Type tubular S.S.304 air heaters. The heaters are fitted on the sides of the dryer to facilitate uniform heating. Maximum temperature attained inside the dryer is 100′ C and will be indicated and controlled by a Digital Temperature indicator cum controller over full range of heating load.
Total heating load for it will be…..
 6 Trays Dryer – 3KW/4.5KW
 12 Trays Dryer – 4.5KW/6KW
 24 Trays Dryer – 6KW/9KW
 48 Trays Dryer – 9KW/12KW
 96 Trays Dryer – 12KW/15KW
The heaters will be inserted inside tubular pipe to prevent it from becoming RED HOT. The terminals of the heaters will be brought outside the dryer to make it safer for operations for solvent based products.
Air inside the dryer is circulated by one heavy duty axial flow S.S.304 or aluminum blower fitted on a shaft of and driven by l H.P. through belt. The special design of the Blower ensures uniform air circulation so that there is uniform air current over the entire charge loaded in the Trolley inside the dryer. The working of the motor is indicated by lamps in the control panel. Adjustable exhaust Dumper with an arrangement of pre-filtration in the air inlet.
Trays will be manufactured from 1.6 / 1.8 mm of SS 316 sheets. Its dimensions are 32″ x 16″ x 1 1/4″. The Trays have rounded corners with' mirror finish from inside and outside.
1.6 / 1.8 mm of SS 316 quality is available on demand.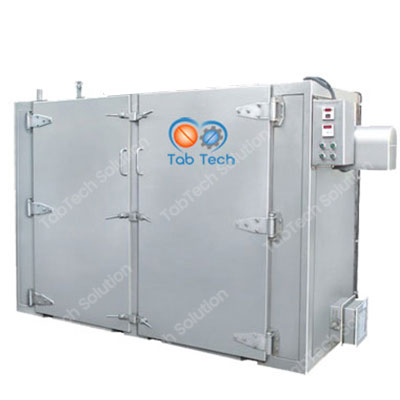 Note :
* Output Depends upon the characteristic of material.
* All Images are representation purpose only actual product may vary.
* If machine selected with AHU with HEPA, Scrubber & Ducting Length above 5 Meters, than the blower motor capacity will be required of higher size.
* Electric Voltage and frequency can be provided as per customer requirement.
* Due to continuous improvements in the machines, specification of the machines is subject to change without any prior notice.
* These all Machines should not be used to handle materials restricted under Narcotics Act. It should not be used to handle explosive & / or radioactive materials
Optional Features
Internal wall mirror finish by S.S.316
Flame Proof Electrical Heaters
PLC with HMI Color Touch Screen
Ducting & Elbow
Timer : To switch ON/OFF the oven as per the requirement.
Buzzer : Audio Indication in case of set value deviation.
Control: Microprocessor based temp. Control with printer interface.
Profile controller for Ramp / Soak cyclic applications.
Safety Features :Safety thermostat for over shoot temp. cut off circuit to cut off the whole systems in case of malfunction. (only applicable to Microprocessor based models).