Fluid Bed Processor for Pharmaceutical Industry
Manufacturer of Fluid Bed Processor For Pharmaceutical Industry - Tab Tech Solution is a kind of equipment used extensively by Manufacturers, Exporters, and Suppliers of Fluid Bed Processors (FBP) for Blending, Granulating, Drying Pelletizing, and Coating Applications in the Pharmaceutical Industry.
Tab Tech is a leading provider of innovative processing solutions for the pharmaceutical industry. One of our flagship products is the Fluid Bed Processor, a state-of-the-art machine designed to meet the specific needs of pharmaceutical manufacturers. The Fluid Bed Processor is a highly efficient and versatile piece of equipment that offers a range of benefits for the pharmaceutical industry.
The Fluid Bed Processor is a popular choice for many pharmaceutical manufacturers due to its ability to handle a wide range of materials, including powders, granules, and even tablets. It is highly efficient, with a high processing capacity and short processing times, which makes it ideal for large-scale production.
In addition to its efficiency, the Fluid Bed Processor offers a range of other benefits for the pharmaceutical industry. For example, it can be used for drying, granulation, and coating, which makes it a highly versatile machine. It is also easy to clean and maintain, which helps to reduce downtime and improve productivity.
At Tab Tech, we understand that the pharmaceutical industry is highly regulated, which is why we ensure that all our Fluid Bed Processors meet the highest standards of quality and safety. We use only the best materials and components, and all our machines are tested and certified to ensure compliance with all relevant regulations.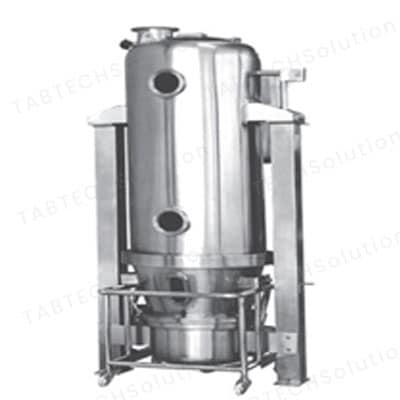 Salient Features for Fluid Bed Processor :
Capacity available 3 Kgs. To 600 kgs.
Models are available with PLC HMI with Colour Touch Screen
Integrated Familiar Design.
Pneumatic Bag Shaking System
Accuracy for the Drying with less time.
Machine with Dutch Sieve & Perforated Sheet at the Product container& that all are easily interchangeable during maintenance in short time.
Providing View Glass &Sampling Port
Top & Bottom Spray System for Processor & Coater.
All contact parts are made from SS 316 / SS316 L.
WIP system for efficient cleaning of machine after each batch process.
Decent design & construction to enhance GMP and to facilitate hygienic cleaning
Using good quality inflatable seal, which is sealed by pneumatic operation.
Inlet & Outlet damper operating by pneumatic operation.
Pre Air filtration by 20 or 10 micron filters
Product Container with wruster column for coating application (Optional).
Flameproof Design (Optional).
Three stage filtration 0.3 micron hepa filter (Optional)
Solid flow monitor (Broken Bag Detector) (Optional)
Machines with Fully Automation with SCADA facility.
21 CFR Part 11 Compliance with process data records and multi level password.