Liquid Filling Machine Manufactures in India
"TabTech" Automatic Volumetric Liquid Filling Machine is work on the volumetric principle with diving nozzles. The unit is made compact, versatile, and enclosed in stainless steel elegantly matt finish body, consisting of an S.S. Slat Conveyor, Reciprocating Nozzle with self-centering devices & SS Syringe. No container No filling system arrangement is standard feature of the machine.
Empty Bottles / Containers moving on SS Slat conveyor, feed below the filling nozzles through a settable twin pneumatically operated stopper system. The twin pneumatically operated stopper system and reciprocating nozzles can precisely match for the centering of the container below the nozzles, to avoid spillage of liquid on the container. The main drive of the machine and conveyor drive consists of A/c Motor with a synchronized variable A/c Frequency Drive.
To minimize foaming adjustable nozzle will reciprocate according to the filling dose, the nozzle will go upwards slowly from the bottom level of the bottle towards the neck during filling. The dosing block with a hexagonal bolt fitted below the syringes.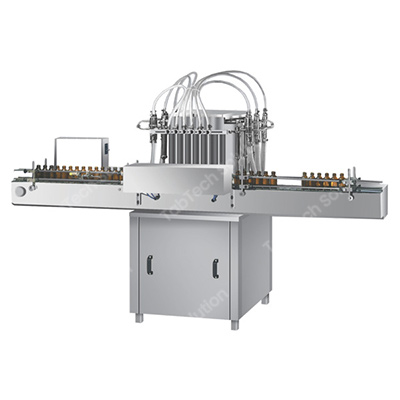 Model
TT-AVLF–100
TT-AVLF–150
TT-AVLF–200
TT-AVLF–250
TT-AVLF–300
No. of Heads/Syringes
4
6
8
10
12
Output/Hour*
2400 to 6000*
3600 to 9000*
5000 to 12000*
8000 to 15000*
11000 to 18000*
Direction of Movement
Left to Right
Fill Size***
5 ml to 1000 ml
Elec. Spec.
Main Motor
1 HP
1.5 HP
3 HP
5 HP
Conveyor
0.5 HP / 415 Volts / 50 Hz.
Height of Conveyor**
860mm to 910mm adjustable
Note : –
* Also available Complete Line Machines / Separate MonoBlock Machines.
* Output Depends on Container size, fill size, Neck diameter of container, and nature of liquid etc.
* Special Product can run With help of change parts.
* All Images are representation purpose only actual product may vary.
* Electric Voltage and frequency can be provided as per customer requirement.
* Due to continuous improvements in the machines, specification of the machines is subject to change without any prior notice.
* These all Machines should not be used to handle materials restricted under Narcotics Act. It should not be used to handle explosive & / or radioactive materials.
Salient Features
± Filling accuracy on single dose.
No bottle no filling system.
Rigid vibration, free construction for trouble free performance.
S. elegantly Matt finished body with SS Square Body Main Frame 40mm x 40mm.
Elegant and easy control panel for total control on operation.
Minimum changeover time, from one size to another container or fill size.
Self lubricating UHMW-PE guide profile for SS slat chain provides low friction wear surface, smooth and noiseless conveying.
Pneumatic Nozzle Diving System.
Pneumatic bottle stopping arrangement.
Synchronized two nos. A/c drive for main motor & conveyor belt.
Safety guard for conveyor gear box, motor and pneumatic cylinders.
Inbuilt protection against over current, voltage fluctuation, short circuit in AC frequency drive.
Optional Features
Dual Track facility available in this machine.
Acrylic Cabinet for the working area.
Chain Washing System
Nytrogen Flushing System
Machine Stop arrangement during bottle jamming problem.
Un Scrambler System
Change Parts
PLC HMI with Color Touch Screen
21 CFR with Part 11 Compliance Facility
Fully Computerized with SCADA Facility
Also Available Machines
Automatic Electronic Bulk Filling Machine
Electronic Filling Machine
Eye Ear Drop Filling Machine
Semi Automatic Electronic Bulk Liquid Filling Machine